Rugs for Kids
We've all seen kid's rugs at some point in life. They have playful, flashy designs, and sometimes they are replaced as play mats for toy cars or building blocks. They are functional, however, at first, the kids will soon be tired of playing on the rug. The wheels from the toy cars snag and high-traffic from the little feet mean that these play mats don't last long. And we all know that their little minds often change and they move on to the next things before your wallet allows.
Have you ever watched a child walk through space quietly? They want to touch everything since kids love sensory experiences, especially texture. Give them a soft place to roll and play by floating a soft flokati rug near a window. Layer it over a soft wool area rug that goes nearly wall to wall and you will have the base for a great design.
When you are designing a space for a child, you can take their interests into consideration without taking them literally along with you while buying a rug. If your child is into trains and cars now, instead of opting for a cheap playmat with the road patterns printed on it, pick a vinyl or oilcloth area rug in stripes or geometric shapes. They can use their imaginations to create roads in the patterns and you have an area rug that will stand the test of time and go beyond the training phase.
An antique wool Persian rug is kid friendly and can blend in with any style. This is what many designers chose for their own children. And you can always layer another soft rug over them if your child insists on that soft fabric to play on!
A kid's room is the place to explore imaginations and colors so don't be afraid to let them go bold. If a shag area rug with oversized polka dots is what catches their eye, build the design around that.
If sunny yellow is their favorite color, find a small area rug to put by their bedside or between two beds in a shared room. Some kids prefer to have more control over their space so a small, round throw area rug is perfect for these kids. They are lightweight and easy to move around. They come in a rainbow of colors and can be used for stylish layering.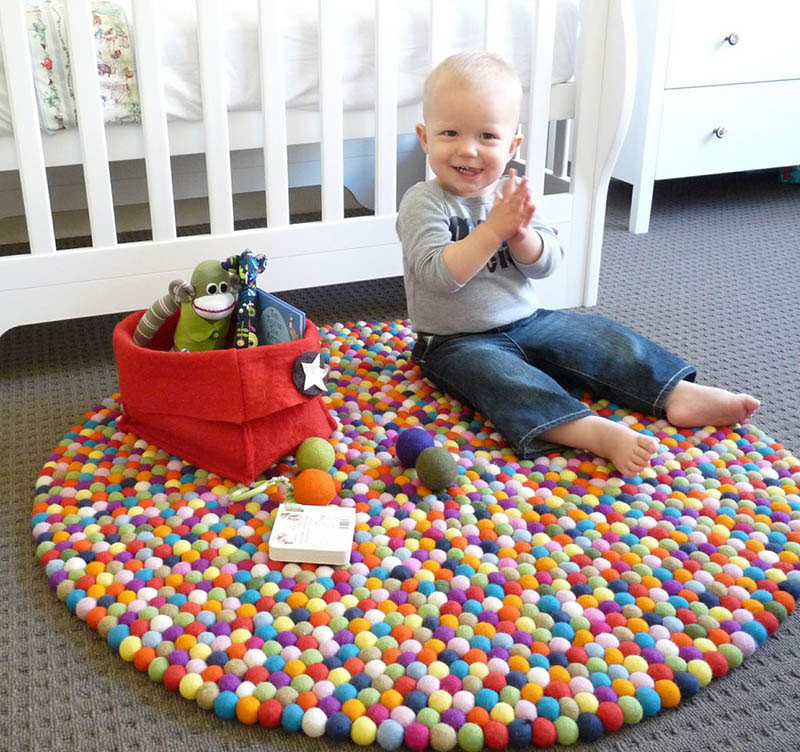 A sharp, geometric pattern in black and white provides a lot of contrast and is the perfect base layer for a teens room. Add over sized floor cushions in bright colors, a basket of blankets, and a couple of small, low tables for laptops or drinks in case you have a space just begging for studying or sleepovers. Design kids room in a way that they will cherish the decor for years. You can take help from online forums or from an experienced interior designer.
Think beyond the nylon "kid's rugs" that are displayed in the big box stores or instead give your kids the gift of good design with a rug that is kid-friendly and also stands the test of time. Bold colors, zany patterns, and high-interest area rugs are out there just waiting to brighten up your child's space. Visit design showrooms and area rug stores with your kids, pour over the design ideas in the provided design catalogs and also allow them to share their choice with you to make a mutual decision.